SOUNDTRACK AVAILABLE NOW
You will have a song in your heart this Christmas after you see JOURNEY TO BETHLEHEM. The movie Soundtrack is available now wherever you listen to music. The deluxe album, including the score, is available November 24.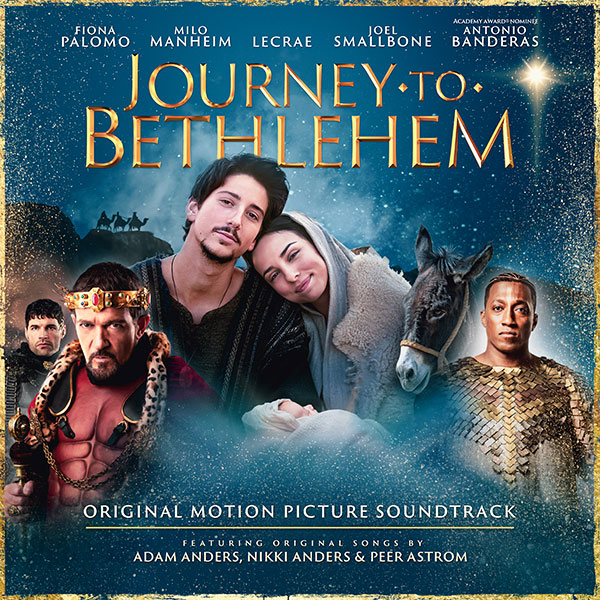 Song List
Come, O Come, Emmanuel (with Daniela Riveri)
Journey To Bethlehem (with The JTB Choir)
Mary's Getting Married (with Fiona Palomo, Mōriah, Stephanie Gil, & The JTB Choir)
Good To Be King (with Antonio Banderas & Joel Smallbone)
Can We Make This Work (with Fiona Palomo & Milo Manheim)
Mother To A Savior And King (with Fiona Palomo)
The Ultimate Deception (with Milo Manheim)
Three Wise Guys (with Omid Djalili, Rizwan Manji, & Geno Segers)
We Become We (with Fiona Palomo & Milo Manheim)
In My Blood (with Joel Smallbone)
The Nativity Song (with Zoe Arnau, Lecrae, Fiona Palomo, Fran Llorens, Geno Segers, Rizwan Manji, Omid Djalili, & The JTB Choir)
Brand New Life (with Steven Curtis Chapman & feat. We The Kingdom)
BUY ALBUM
LISTEN NOW
---
"CAN WE MAKE THIS WORK"
Now available as a single.
WATCH THE MUSIC VIDEO
---
"BRAND NEW LIFE"
Now available as a single.
WATCH THE MUSIC VIDEO